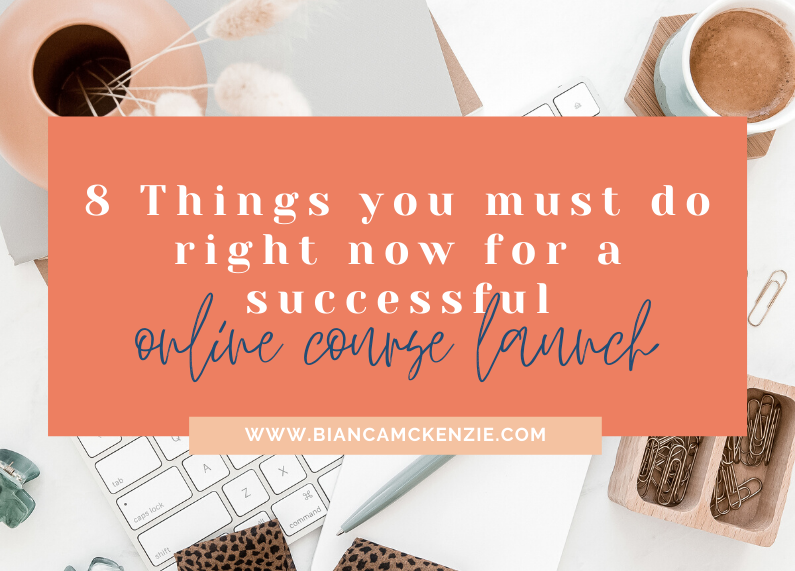 Facebook Ads Checklist
Inside this FREE master template I'll show you exactly what you need to create and setup before you can start your ads.
Online courses have been around for quite some time, but they have become even more important and prevalent in the last few years (or dare I say weeks!).
There are so many benefits to having online courses, but don't think it's all sunshine and rainbows. Creating an online course can be tricky, and a lot of work. And after you've created it, you need to market it and sell it.
This is where I see a lot of people fall short.
They build it and think people will come.
It's not that easy. In fact, I would argue that it's actually quite hard.
That's why I've created this list of 8 things you must do right now for a successful online course launch in the future.
Be visible
One of the first things to do, before launching anything, is to be visible and build a brand. You really should be doing this BEFORE you build an online course. A lot of people build an online course and then try to sell it, but nobody knows them. When they've created the course and are trying to sell it, they post a few Facebook posts and wonder why nobody buys it.
Which leads me to the next point.
Build an audience
Without an audience to sell to you really shouldn't be creating an online course. First build an audience, so that you get to know them and what problem they're facing. Then you can build a solution for their problem (e.g. your online course). Having an audience is really important, and being visible to your audience so that they get to know you, like you and trust you is absolutely vital for online course sales.
Build authority
While you're building an audience, and being visible, make sure to focus on becoming an authority. Focus on one key problem and being the number one solution to that problem. Don't focus on all the things you can do, focus on one so that you become known for ONE thing. Build authority and become the person known for doing what you do best in your industry.
Grow a list
For the past five years I've been behind the scenes of multiple 6 figure launches and the one thing in common is that each one of these successful launches can be linked back to my clients' dedication to list building.
The numbers don't lie. It is widely known that only 1-3% of your audience will convert to a sale, which means that you need to build your audience and focus on getting them into your community so that you can build closer relationships. If you think you can beat the statistics of 1-3% I'd love to see you try. It is totally possible to get higher conversion rates, and I can tell you that the only times I've seen my clients do this is when they excel at building relationships and communities.
Become known for one thing, show up, build your list and nurture them. It will serve you in all of your launches to come.
Facebook advertising can help you speed up your list building process. If you want to know how, check out this goldmine of blog posts to start list building with Facebook ads.
Serve, not sell
Another thing I've noticed over the years is that my clients' focus is always on serving, not selling.
Don't get me wrong, of course they want to sell, but their most important value is to serve. Those with successful launches give a lot to their audiences, they build close knit communities where they continuously provide value. By the time their launch rolls around, their audience has already made up their mind because they feel connected, inspired and supported.
Focus on serving, not selling.
Write stellar copy
Words matter. They really do.
I might be a Facebook advertising strategist and attribute a lot of my clients' sales to Facebook ads, but I also know very well that words sell.
Make sure that you know your audience, you know the words they use so that you can speak directly to them. Write email nurture sequences and sales emails that hit the bullseye.
Your sales email sequence and sales page need to do the heavy lifting. They are your sales person so to speak, so copy is extremely important. I'd say it's one of the most important pieces to wrap up a successful launch.
I'm not a copywriter, but I have up-skilled by doing the Crisp Copy Copywriting class and highly recommend it. Or you could ask Jay Crisp Crow to write your copy for you, which I've done for my sales pages. (*affiliate link)
Testimonials & case studies
Before you launch, reach out to all your customers for success stories or testimonials. You'd be surprised how many people make decisions based on other people's stories. Your past clients and students are your sales team in a way.
Collect stories from clients and students that inspire people to take the first step in working with you. If you can collate a number of case studies and testimonials that feature small wins and wins, your sales page will be a lot more complete.
Plan in advance
Creating and selling a course takes time. Especially when you are new to the game and are still building an audience. At a minimum you need to take 90 days to focus only on building an audience and becoming an authority, but ideally you'd take much longer.
Then you also want to take at least 90 days to launch your course, including list building, pre-launch and launching.
Each part of these steps has its own list of activities and tasks. Don't skip straight to selling your course, because you'll be bitterly disappointed and I don't want your course to be one that never saw daylight after you created it because you thought nobody wanted to buy it.
Creating an online course is about so much more than putting content together to teach your students something. That's the easy part in my opinion. The challenging part is marketing your course and it can't be done overnight.
Start investing in building an audience now, because it will pay off by the time you are ready to launch your online course.
Facebook Ads Checklist
Inside this FREE master template I'll show you exactly what you need to create and setup before you can start your ads.