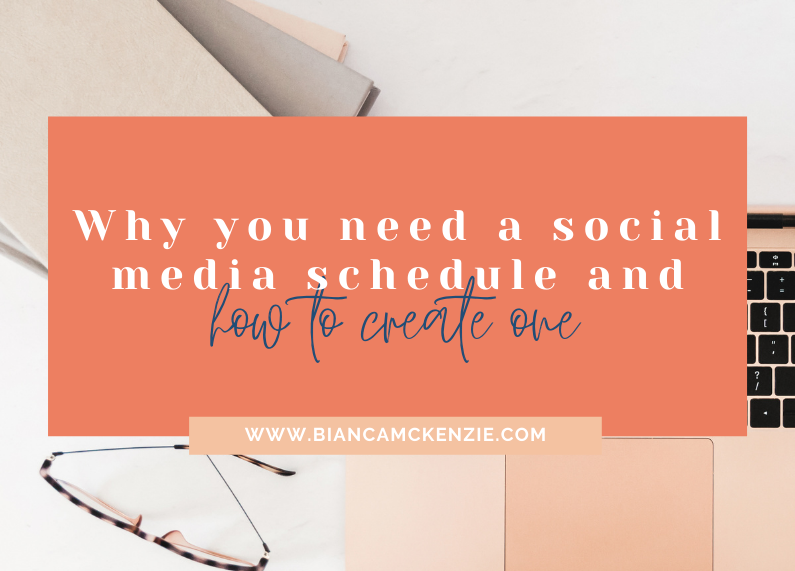 If your business has a social media presence it's important to keep your newsfeed moving with content, but like any other business owner you're probably busy working in your business. Your social media platform is most likely your last priority.
That's all about to change today, I hope.
Even though you may feel like you're not getting much of a return on investment from your social media efforts, having an active Facebook page can contribute to your search engine ranking on Google. While it's not the be all and end all, it all contributes to your overall presence and how your clients find out about you and connect with you.
If you're finding it hard to consistently post on your social media channels and your pages often go without fresh content for weeks it will pay off to create a social media schedule.
Like I mentioned above, having a social media presence helps your clients find you but there are also other benefits to being active online. It pays off to create a social media schedule, also called a social media calendar.
Having a social media calendar will help you plan quality content in advance and it will help you avoid the unnecessary stress of having to post something because you haven't yet posted this week.
Creating a social media schedule also means that you are aware of important dates in advance. For example if your business is focused on specific dates in the calendar you can plan quality content in the lead up to these events.
Your social media calendar is designed to have a plan for content so that your newsfeed is always full and engaging without being spammy around peak times and super quiet at other times. It creates balance.
As soon as you start implementing your social media calendar you'll wish you'd done it sooner. It gives you a road map and more clarity for your social media journey, and you'll be grateful not to have to stress about what to post anymore.
Here are some helpful steps and tips to help you create your own social media calendar.
1. Work out when your audience is online by looking at your social media insights.
Inside of your Facebook ads insights you'll find statistics on when your audience spends the most time on Facebook. Your aim is to post just before those times to maximise the chance of your posts being seen.
As you can see on the example, there is a spike at around 9.00am so my aim is to post just before that time to make sure the most amount of people see that post.
2. Work out how frequently you need to post
Depending on which social media platform you are using, there are some recommendations on how often you should be posting.
It also depends on your bandwidth and capacity, but as a recommendation I suggest you start with posting twice a per day. Last week's post has more insights into how often to post on your Facebook page.
3. Determine your content categories
Before you start creating your content for your calendar, take a minute to determine the categories for your posts. Categorizing your content helps you see what type of content you need to create. It will also help you create a balance between valuable content and promotional content.
To start, create a category for each of these four types of content.
Attracting

Engaging

Educational

Promotional
Then create subcategories for each of these types. For example, create a category for your own blog posts, for curated blog posts, for inspirational quotes, for questions and so on.
Download the free template to start creating your own content library and calendar.
4. Work in advance
Create your content calendar in advance by planning out what you want to post on particular days and times. For example you could post a 'hello Monday' or 'what are your goals' on Mondays, post a link to your blog post on Tuesday and so on.
On most social media platforms you can schedule your posts in advance, so armed with your content, spend some time batching the task of setting up and scheduling your content.
Here's how to schedule your posts in Facebook: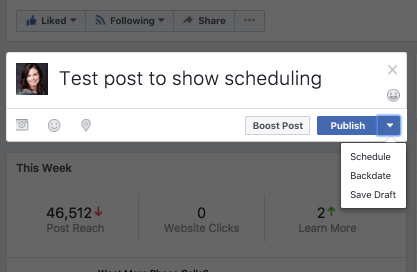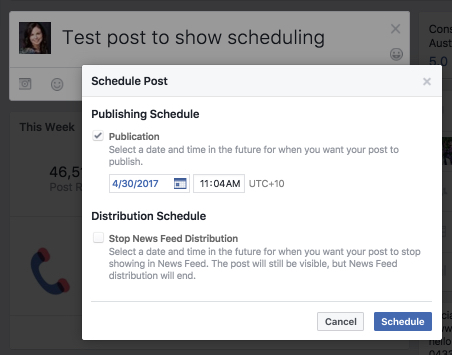 Creating a social media schedule and creating your content in advance will help you streamline your processes and be less ad-hoc and more strategic with the content that you put out there.
Start creating your content library and social media schedule today. Download your free template here. (no opt-in required)