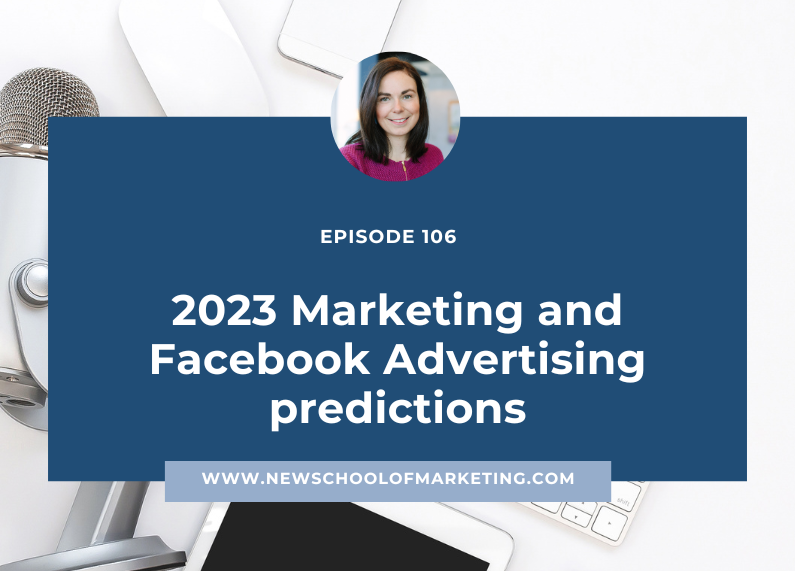 Now that we've sliced the top off 2023 and people are getting back to business, I'd love to have a peek into my crystal ball and talk about what I think 2023 has in store for us. 
Before we leap in, let's have a look at 2022 and take some lessons on-board because gosh it was an interesting year. 
2022 saw a lot of businesses struggling and many had to pivot or go under. It was quite a challenging year for many business owners and if you've struggled with sales, profitability and marketing in 2022 you're not the only one and it's not a reflection of your ability to run and grow a sustainable business.
For those who made changes and paid attention to their audience and marketing landscape it paid off.
And interestingly ad costs are cheaper than they were a year ago. I'm not sure if that stays the same, but right now it's good news. 
So what's going to see you succeed in 2023 with ads?
Let's dive into some predictions for the year ahead (and remember that anything can happen from now until December).
? Tune in to hear more
—-
Favourite copywriters & copy teachers:
Connect with me
Website: www.newschoolofmarketing.com
Facebook: @newschoolofmarketing
Facebook group: @newschoolofmarketing
Instagram: @bianca_mckenzie
Love the New School of Marketing Podcast?
Let's be honest and upfront, because you know that's what I'm all about. Podcast reviews are super important to iTunes and the more reviews we receive the more likely iTunes will reward us with better reach.
I want to reach more course creators, store owners and awesome business builders that can add extreme value to our awesome insiders. I already love that you're here and ready to rock your business, but I'd be extremely grateful if you would review me on iTunes and SUBSCRIBE!
Can't wait to teach you everything I know about online marketing!
Facebook Ads Success Bundle
Inside this FREE bundle I'll show you exactly what you need to create and setup before you can start your ads.