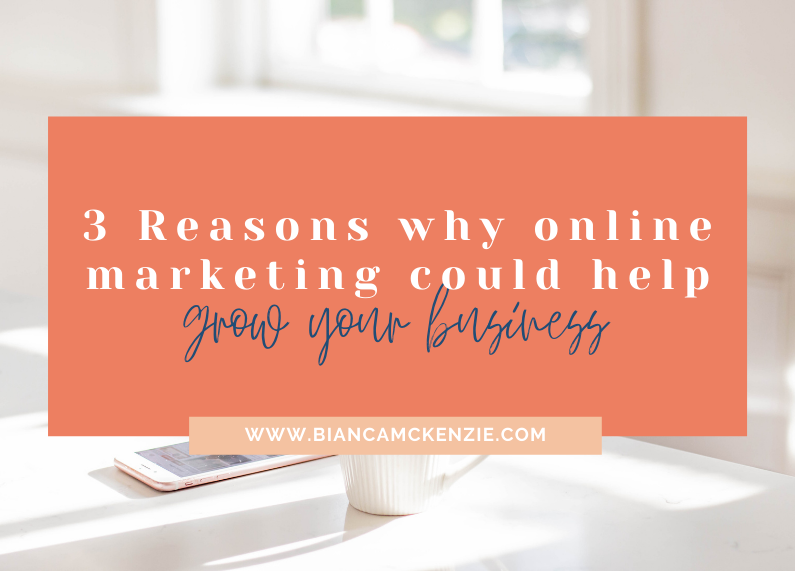 As a passionate online marketer I am often surprised by the reluctance of business owners to embrace the online world, especially when it comes to using it to grow their business.
These days most of us spend a number of hours per day on our computers or phone, often browsing Facebook or searching for something in Google. For this reason alone I encourage business owners to have an online presence. Imagine someone searching for what you have to offer and they will never be able to find you because you're not online…
There are many ways online marketing can support your business growth but I want to focus on three reasons.
Let's look at 3 reasons why online marketing could help grow your business.
It's more cost effective than traditional marketing
Traditional marketing such as magazine advertising, printed marketing materials, TV advertising etc. are much more costly than online marketing. They also tend to be harder to measure as it's hard to tell whether someone has purchased your product or service as a result of your TV advertisement. When something is harder to measure it becomes harder to tell whether your marketing is giving you a return on investment.
With online marketing you generally get in-time data that tells you how well your website, your social media or your ads are performing. You get to see how many visitors your website has, how much engagement your social media has and how your Facebook ads are performing in relation to your goal.
Online marketing facilitates interaction with your audience
Building a relationship with your audience is extremely important for entrepreneurs and small businesses as it's what makes us stand out against bigger corporations. Online marketing offers you a platform to interact with your audience and build stronger relationships.
Interacting with your audience and building stronger connections is beneficial to your business as people purchase from people. Being relatable to your audience and connecting in a genuine way will help you grow your business.
It offers the opportunity to build brand reputation and loyalty
Online marketing is an excellent way to build brand reputation and loyalty. Having a website and social media platforms that carry your visual branding ensures that your audience will recognise your brand. Branding is very important for your business, especially visual branding as your audience needs visual prompts to remember who you are and what your business is. We all remember and know the logos of brands like Apple, Nike, Coca Cola etc. Being recognizable and creating a specific 'brand feel' will help you build a tribe of loyal customers who only want your product or service and not someone else's.
Are you building your online marketing presence? I hope this post has shown you that online marketing is beneficial for your business growth. Keep your eyes on this blog for my upcoming free video series all about the 3 pillars of successful online marketing for new (and established) entrepreneurs.