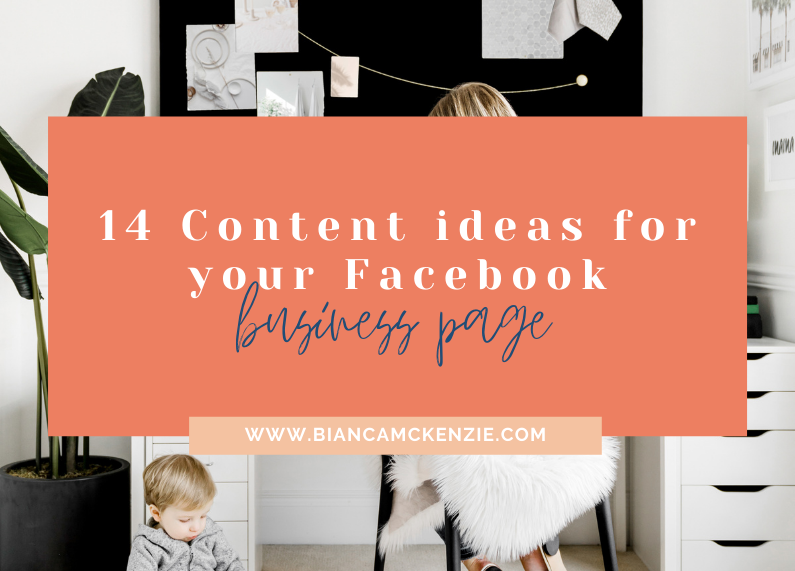 Our Facebook feed has become a vibrant, but sometimes noisy, place. So how do we, as business owners who want to be seen and heard, stand out?
As Facebook becomes more and more embedded in our lives and they make countless changes  to improve the customer experience, we as business owners need to constantly up our game too. Yes, the basics remain the same but now more than ever is soulful, authentic marketing the key to standing out.
The most important part of standing out on Facebook hasn't changed, even after all these years. The platform is a social media network, which means it was meant to be for 'social' purposes and not immediately for sales purposes.
What we need to remember first and foremost is to be social, to connect and build relationships with our audience. After all, they take time out of their day to follow and interact with what we post…. That is, if we do it right.
So what exactly should we post on our Facebook business page?
There are numerous things we can post, but the main thing to focus on when creating content for Facebook is to aim for engagement. The higher your engagement on Facebook the better your page is performing.
Let's look at 14 ideas for your Facebook business page.
Tell stories
Personal stories in particular work well on Facebook. People love stories and often remember them. Your fans will probably have similar stories or are going through something similar to what you're describing. Telling stories allows you to connect with them on a personal level and it creates resonance.
 Trending topics
Facebook's news feed algorithm is a smart one and it will reward posts that are about topics that are trending on Facebook.
Try to find potential topics that your fans will be talking about, such as sport or news. Of course it has to fit in with your business and brand, but sometimes it's good to post something more personal.
Behind the scenes
People love seeing into other people's lives, houses and businesses. Try to post behind the scenes of your business to humanize your brand and let your fans go on a journey with you.
Selfies
One of the new favourites are selfies, which are a bit like behind the scenes but you're showing you. The idea behind a selfie is to humanize your brand and show the real YOU to your fans. In the end people buy from people and 'meeting' you will help form a stronger connection.
What's on your mind
Sharing random thoughts can be a great way to engage your fans. Not everything needs to be planned out and scripted, instead you might have a random thought and share it with you audience.
Viral photos
Sometimes you might not have the inspiration to create some fresh content, and that's totally ok. Posting photos that have high success and engagement could spice up your feed a little. For example, you could post a funny photo, a cute photo, a meme or a quote.
Involve your fans
People love to be involved in decision making, so ask your fans to contribute or give their feedback about a business decision.
Are you working on a new logo and you want some feedback, ask them. Not sure on what to write about on your blog, ask your fans.
Fill-in-the-blanks and questions
Questions and fill-in-the-blanks type posts have a clear call to action and tend to get your fans responding every time. People love to have their say and share their experiences.
Your images
Posting your own images means that they are unique and you could even make them branded. In tools like Canva or PicMonkey you can create or tweak your images before you post them.
Inspiring quotes
Some people are a little bit over the inspiration sharing but it is still one of the highest performing types of posts so it's a good idea to include some inspirational quotes on your page. Try to create your own, include your website URL so that when it's shared people can find you.
Show your products
People want to imagine how they can use your products in real life. show people how your product works and how it's being used.
Videos
Posting video on Facebook is the new black. There are over 8 billion videos watched on Facebook daily. You can post videos of you, your team, your products, behind the scenes, something fun etc.
Shine the light on your fans
Post about your fans and customers. For example, you can show a testimonial, either in a post or a video. Share the love.
Promotion
I've left this one til last as you want to post promo content sparsely. The main focus of your page should be on building engagement and every so often you can share an offer or way to work with you but it shouldn't be your main focus.
Remember that the main focus of your business page should be to connect and build engagement with your fans. It's a place to show them who you are and what you do in a fun, lighthearted and authentic way. Build relationships before you sell to them.