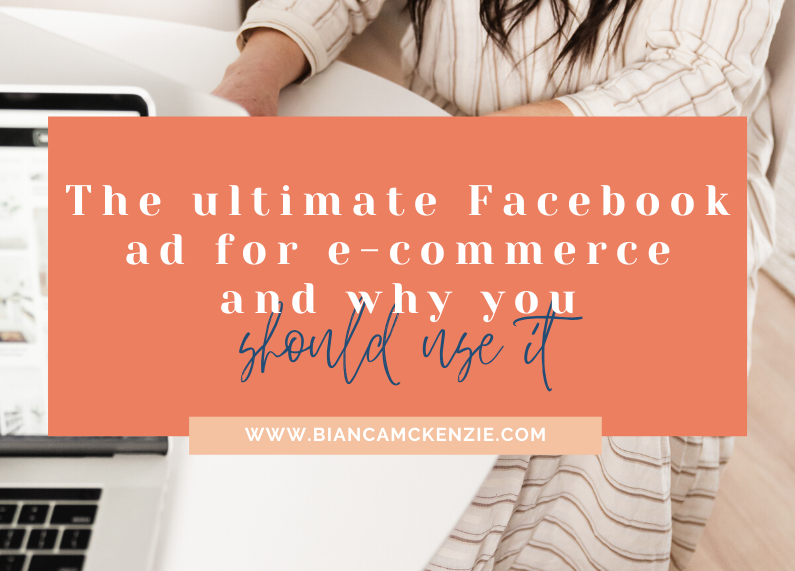 Free Download
The Ultimate Facebook Ad for Ecommerce guide
There is one ad type out of all the options that trumps everything in my opinion.
It's usually the first ad that I run for a new ecommerce client.
It's usually the most lucrative ad.
I'm saying 'usually' because there are never guarantees but this type of ad is something you simply cannot afford not to run.
What's this magic (or sorcery) you ask?
I'm talking about a retargeting ad.
Retargeting ads are what some people call 'creepy ads' because it seems like Facebook follows your online movements and shows you ads of the products you just looked at.
You may have seen them in your own news feed after you've spent some time browsing an online store and when you go to Facebook, that exact store shows you the exact products you've been looking at.
It's serious magic.
And even though some people might find it creepy or somewhat annoying, retargeting ads are incredibly powerful.
Here are some of the statistics that back up what I'm trying to tell you.
Retargeting helps address the 98% of visitors who leave a website without making a purchase.
The average CTR for retargeting ads is 10X that of display ads.
Retargeting can increase conversion rates by as much as 150%.
Source: https://99firms.com/blog/retargeting-statistics/#gref
The reason for running retargeting, also called remarketing, ads is that it helps people remember what they were doing on your website and entices them to come back to complete their purchases.
We all know that life can get in the way.
The toddler needs a snack and you forget to check out.
You're mid school pickup and you forget to check out.
You're about to have dinner and forget to check out.
Or whatever else life throws at you.
Retargeting ads are incredibly powerful.
A few weeks ago I started with a new client and the first ads we ran were retargeting ads. Within a two week period we had added over $4K to her revenue. Not bad for an ad spend of just over $100.
Without these ads she'd have missed out on so many sales.
This is seriously the ULTIMATE ad you should be running in your business and I've created a FREE guide to help you set up your own retargeting ads.
Inside this free guide I show you step-by-step how to set up a lucrative retargeting ad for your ecommerce store.
Download yours today and add more revenue to your business.
Free Download
The Ultimate Facebook Ad for Ecommerce guide