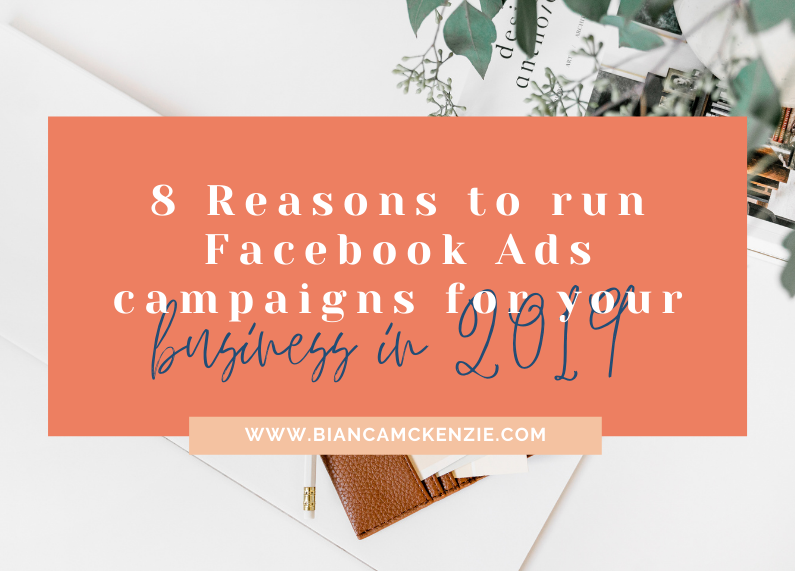 If anyone here asks whether they should be running Facebook ads for their business I'll be the first to put my hand up.
Yes, I'm probably biased since I'm a Facebook advertising strategist, but I'll tell you why you should be investing some of your business dollars into Facebook ads in 2019.
1) Facebook is the largest social media platform around
At the time of writing this article, Facebook has 2.27 billion active users per month! That's a massive number and the platform is still growing. Right now it's growing at a rate of 10% year over year.
Of course not all of these users are your ideal client but even if 1% is, that's still a lot of potential clients.
If you think your ideal client isn't on Facebook then I don't know where they hang out because it's still one of the largest social media platforms around and most people have a presence on the platform.
The only exception I can think of is my dad, but he's not my target market and probably not yours either.
2) Facebook ads offers excellent analytics
When you think of advertising you probably think of magazines, billboards, tv and most of these options are expensive and it's hard to track your return on investment.
With Facebook this has been completely turned on its head. Facebook gives you amazing insights that can help you not only improve your business but you can track your return on investment, or return on ad spend (ROAS).
With Facebook ads and their nifty piece of code called the Facebook pixel, you can track how many people clicked on your advertising link and how many of those took a specific action such as signing up for your mailing list, adding something to cart or purchasing.
3) Facebook ads is perfect for marketing research
As I mentioned before and also in this blog post, Facebook ads gives you excellent insights into what's doing well in your business and what could be improved. It's a fantastic tool for marketing research as it can help you find your audience, help test your offers and find out if they convert. Once you have some data you can tweak until your offers convert.
For example, if your advert is getting lots of link clicks but no conversions Facebook is basically telling you that you need to look at your landing or sales page. It means that your ad is working because people are clicking through, but they're not taking the next step on your landing page. It's excellent for market research and optimising your funnel.
4) Facebook ads lets you target the right audience
There are lots of targeting options with Facebook ads and because it's the biggest social media platform around, you can safely say that your ideal client is using it. Now you need to utilise Facebook's comprehensive targeting options to reach your ideal client.
When using Facebook ads you can target your ideal client based on a number of qualities such as age, gender, location, income, interest, other pages on Facebook they like, if they are parents of a certain age group, newly weds, home owners and so much more. The options are almost endless. Once the targeting is perfected you won't be wasting money on advertising to people that would never need your services or products.
5) Retargeting is the new black
Ever gone to a website and then to Facebook, only to be 'followed around' by that same website? Creepy right?! It's called retargeting or remarketing and it seriously is the new black and your new best friend.
You can upload your email list into Facebook and you can retarget people on your list with ads on Facebook. You can also retarget people who have visited your website or specific pages on your website, as long as you have a Facebook pixel installed. If you're selling products, you can retarget people who reached the checkout page but didn't purchase.
In short, you can 'follow' people around to remind them of your business and product and although it might sound creepy, we all get distracted at times and need reminders to complete what we were doing. There is strong evidence that we need to be reminded to purchase something and retargeting has amazing results.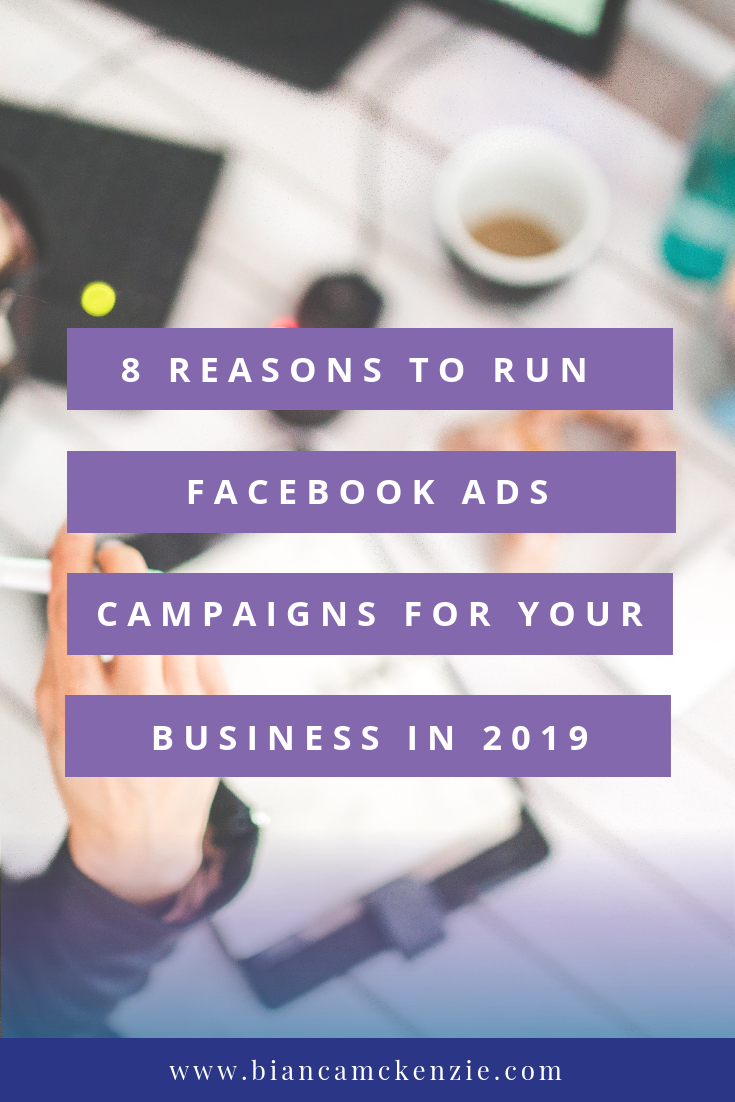 6) It's the cheapest advertising around
Facebook ads are one of the cheapest ways to advertise and often with a high return on investment. You can set your daily budget at an affordable $5 per day and test what is and isn't working for you before scaling your ads. If they're not working you can switch them off, which isn't something that's possible for TV or magazine ads.
Facebook is set up so that any business owner at any stage of their business can run Facebook ads. Facebook ads tend to be much cheaper than traditional marketing strategies and you have more control over who sees your ads. As mentioned before, you have flexibility in testing your ads and tweaking them until they are producing the results you are aiming for. It is designed in a way that you are not throwing money at marketing that is not working. Facebook wants your ads to succeed because it will have you coming back for more.
At the time of writing this post I'm running FB Ads to my free training "5 Steps to Creating Strategic & Profitable Facebook Ads that Build Your Email List… without overwhelm or wasting money" and I'm paying on average $0.35 per email sign up which I'm super happy about.
7) Accurate and easy tracking of ROI
Facebook makes it super easy to track whether your ads are working. If you've set them up correctly and all of the right pixels are installed, you'll be able to set up custom reports to track your ads performance. Your ads report will reflect real time data allowing you to make tweaks if your ads aren't performing.
8) Facebook is becoming a pay to play platform
Facebook is a business, just like you have a business and unfortunately for us business owners Facebook is not making business pages as big of a priority in the algorithm as they once did. Your business page is less likely to show up in your potential customers feed as it once did. As a business owner you're charging for your services, just like Facebook is monetizing their business model. Facebook is becoming more of a pay to play platform and an extremely good one at that.
Now you know the 8 reasons why you should be using Facebook ads in your marketing strategy in 2019 whether you are an online business, ecommerce store or a local business. If you're ready to start running Facebook ads, make sure you watch my free video training "5 Steps to Creating Strategic & Profitable Facebook Ads that Build Your Email List… without overwhelm or wasting money".
If you have tried Facebook ads before and didn't see results or you are just so overwhelmed by running ads, check out how we can work together. I offer Launch Strategy and Facebook Ads management.