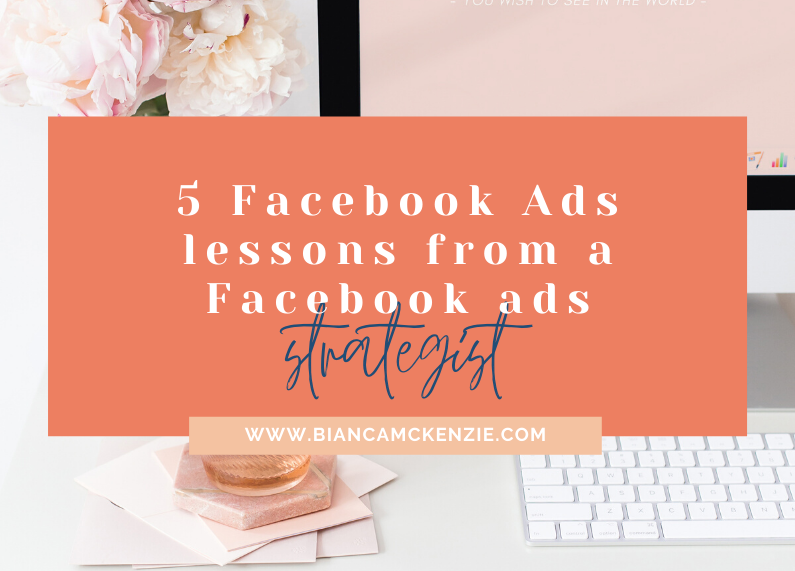 The more I speak to people about Facebook and Instagram ads, the more I realise that there is still so much mystery around this amazing way to support your business growth. That's why I'm sharing these lessons with you, hoping that it'll take away some of the questions or preconceived ideas you may have.
1. It's not as hard as everyone thinks
I've decided to start with this 'myth' and lesson because I feel that people who don't understand something automatically label it as difficult. As with anything unknown, there is a bit of a learning curve. I'm going to make an educated guess that when you started your business you had to learn everything step by step too, but you did it and here you are.
Facebook ads are not as hard as everyone thinks. To explain it in a simple way we can compare it to newspaper advertising but with much more transparency. When you place an ad in a newspaper you have very little control over factors such as how many people will see it, how long your ad will be seen and by who, it's often limited to a geographic region and it's hard to track sales as a result of a printed ad.
Facebook ads are just like a newspaper ad, only you have control over a lot more. Firstly, you get to control who you want to show your ads to (and only pay for that), you can choose to show it to a specific geographic region or to multiple countries, you can choose when you want the ad to start and finish and there are a number of options to track results. It's so transparent that you can even see how many people actually saw the ad, clicked on it, added it to their cart and then purchased it.
I think the reason people think it's hard is because with a newspaper ad there is a certain 'unknown' factor in terms of results and people were ok with that, whereas with Facebook ads there is so much transparency that it makes people uncomfortable and confused by all the options. I much rather have all the data so that I can have a much more predictable result for the money that I'm spending.
The first step to successful Facebook advertising (and any advertising) is to know who your ideal customer is and to map out the journey you'd like them to take from finding you to purchasing from you. Most people who are in their early stages of business only think about those two steps but there is so much more in between.
It's important to map out your client's journey before throwing money at any marketing tactic, including Facebook ads.
2. It's not as easy as everyone thinks
This brings me to lesson 2. It's not as easy as everyone thinks.
As I said in lesson one, most people have a two step thought process. They assume that when people find their business they will purchase what they are selling.
This is so far from the truth and sadly why so many businesses struggle to take off.
Over the past five years I've seen that it's definitely true that people buy from people. Building a relationship with your client is more important than ever because there are a lot of options out there for people. I bet that your business isn't the only one selling what you sell, so the differentiator is YOU.
The power of selling is in the experience that people have with your brand. That's why it's so important to know who you're selling to and mapping out the experience and journey you want someone to have with your brand.
Facebook ads can support this journey at several points and also speed things up a little. Once you know the steps in your client's journey, it becomes much clearer what Facebook ads can do for your business.
You might think that Facebook ads are technical, but you'll see that when you have a clear map of your client's journey it becomes a lot less technical and a lot more emotional. Facebook ads manager, the infrastructure to set up your ads, is very intuitive and has a lot of default options that will most likely work for you. It's still important to know what each option means and what it can do for your business so it's not as easy as leaving every setting on the default option. When you know what you want your ads to achieve it's much easier to figure out what your settings should be.
3. Facebook ads don't work without a strategy
This lesson isn't just applicable to Facebook ads but it's important for any marketing tactic. Don't ever just dive into something to see if it will work, especially not when you are investing money in it.
Facebook ads need a strategy and that's why it's so important to know your client's journey. Facebook ads aren't a stand-alone tactic and it needs to be used in conjunction with other marketing tactics. It should be part of a bigger picture, especially in a service based or digital product business.
Things to consider in your ad strategy are:
Your business and ad campaign goals
What will likely convince your client to purchase
Creative ideas to lead your client to purchase
Knowing how your audience spends their free time so you know where and how to target them
What your client's perception is of the product/service you offer
How much to spend on each of your target audiences or campaigns
Selling points that you will emphasise in the ads and on your landing pages
How well ad copy/content performed in tests before fully launching a campaign
How effective a campaign was after it was launched through measuring your results against your goals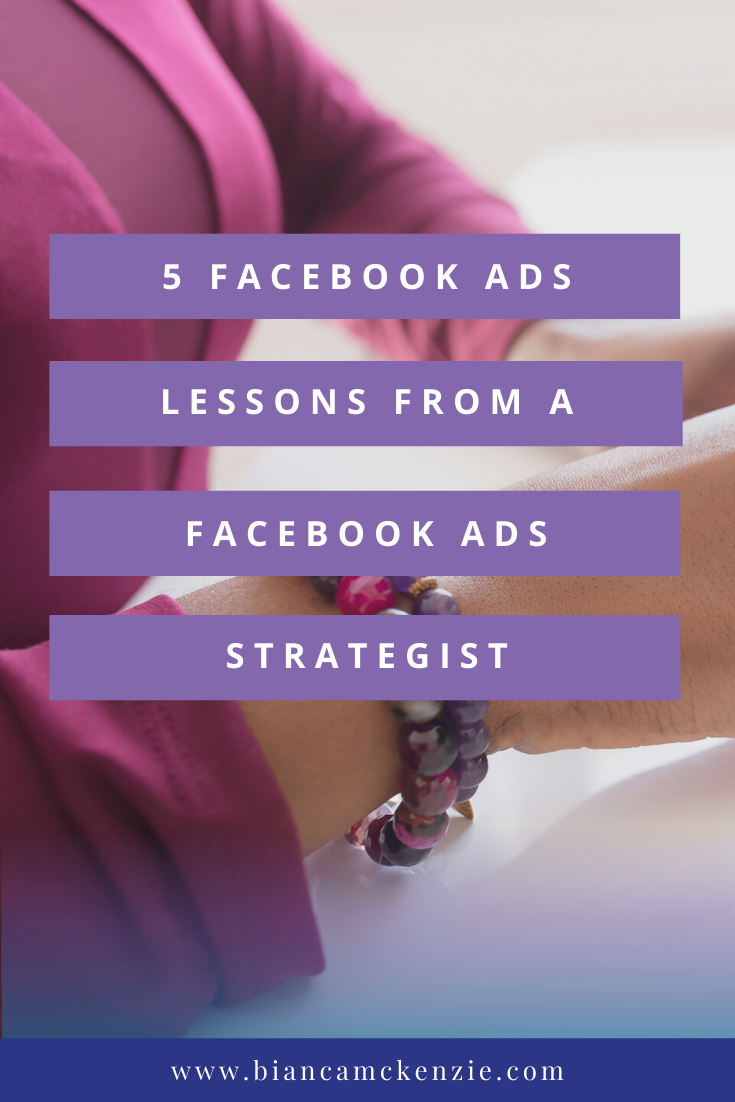 4. It works hand in hand with other tactics and strategies
As I said, Facebook ads are part of a bigger picture and should be one of the marketing tactics you use. It's important to mix it with other tactics such as organic social media on Facebook, Instagram, Pinterest (or wherever your audience hangs out).
It's also important to blend Facebook ads with strategies and tactics over which you have more control and ownership, such as a website, landing pages and email marketing. I'm not going to go into email marketing and the importance of it, but you can read more about it here.
Facebook ads work best when they are part of a marketing 'ecosystem'. People need multiple touch points with your brand and Facebook ads can be one of these. Others could be organic social media, a podcast, a blog, a YouTube channel, public speaking etc. Think of where your ideal client spends their time online and offline and then find ways to market your business in those spaces.
5. Facebook ads amplify
This is a super important lesson for anyone who's considering Facebook ads for their business. Facebook ads amplify, and I can't say this often enough.
What I mean by this is that Facebook ads amplify what is already happening in your business. So, if you're already making sales, Facebook ads can amplify this. If you're not making sales organically after driving traffic to your offer, you don't want to be spending money on Facebook ads because all this will do is amplify your zero sales and you'll be wasting your money.
If you're not already making sales without Facebook ads, you need to look into why this is and fix your conversion issue before spending money on Facebook ads.
There's one *but* in this lesson and that is that you can use Facebook ads for a non-converting offer BUT you need to treat it as a marketing research exercise to find out what the problem is so that you can fix it. I've written about using Facebook ads for marketing research before, which you can read here.
If you're making sales organically already, Facebook ads can help you scale this and increase your reach, impact and revenue.
Head on over to my free video training to learn more about Facebook ads for your business and make sure you download my checklist to tick off what you need to have ready before running ads.