We live in an online world, and a lot of us market our businesses online but did you know that there was a time before the internet?
Of course you do!
Back in the pre-internet days businesses also promoted and got customers in the door and I want to go back in time and share a few offline marketing activities with you.
Some of these might be super helpful for your business, and others won't. It depends on your business and on what you're willing to do to promote it.
Here are 14 of those offline marketing things you can do to promote your business.
1. Guest speaker
Be a guest speaker at a live event and promote your business from the stage. General marketing principles apply so make sure you offer lots of value before selling, and check with the event organiser what is and isn't allowed.
2. Satchel inserts
Promote your business by including a little gift, irresistible offer and way to get in touch with you in the event's goodie bag. Make it memorable and actionable so that people simply can't ignore it.
3. Give-away/door prize
Offer a give-away or door prize at an event. Again, make it memorable, valuable and actionable.
4. Host a free workshop
Free workshops or 'library sessions' is a great way to share your knowledge and at the same time give people a taste of what it could be like to work with you. The aim is to provide value in a short 30 to 60 minute session and invite your attendees to work with you. As with being a guest speaker, it's recommended to make an offer that people can't resist or get at any other time.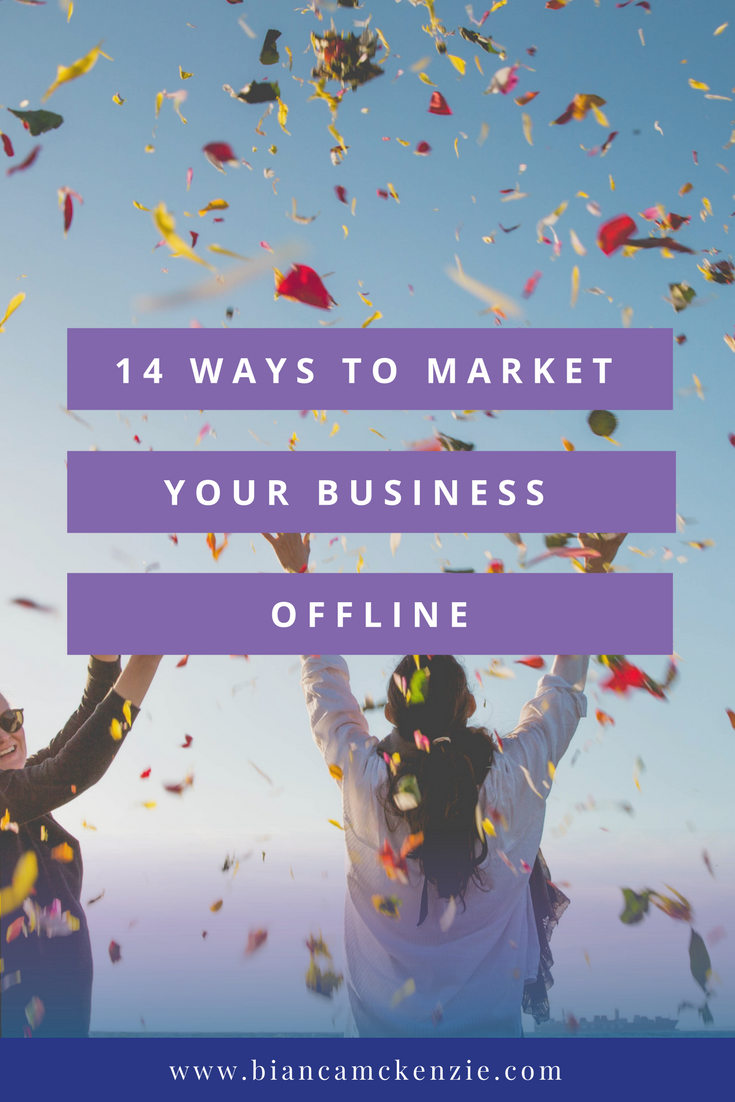 5. Ask for referrals and reward them
If you currently have happy clients, I suggest that you leverage them and ask for referrals. Implement a referral system that rewards happy clients for recommending you.
6. Personal branding
Personal branding, in particular photography, is an important marketing piece for your business. Especially if you are the face of the business, you want to create an instant connection with your audience. Knowing that people buy from people, having you as the brand is extremely valuable.
7. Offline networking
Networking often makes us cringe. We think of the sales pitch and business card exchanges, but these days there are a lot of fantastic networking events around. You can go to women's business breakfasts, after work drinks style events, one day events or even retreats. I would treat them all as networking and building relationships with other business owners.
You're not there to promote your business, you're there to build relationships and make business friends. If you do that part well, the business promotion will follow. The better you get to know each other and the closer you get, the more often those other business owners will recommend you to other businesses when they are asked 'do you know someone who does [insert your specialization]?'
8. Introductions
Start introducing other business owners to each other and be a 'middle man' for relationships, you will be amazed at how contagious it is and how many people will start introducing you to to potential clients.
You can also create an initiative where you get your current clients to introduce you to new clients.
9. Magazine advertising
Many people still read magazines, whether they are digital or printed, so it might pay off to look into advertising in a magazine. Be sure to know your ideal client very well so that you pick the right magazine and design the perfect ad and offer for your perfect client.
10. Branded products
Giving something away with your branding on it can be quite powerful. People keep pens, for example, for ages and having your brand in front of them will remind them of you often. They might not need you now, but down the track they might need your product or service and because your pen has put your brand in their subconscious mind, you will be the first they think of.
11. Market stall
Having a market stall is a great way to build face to face relationships and 'get to know' your ideal client. Market stalls can be fabulous for your sales, but also for your market research.
Find out if there are any local markets and enquire about having a presence. They are not only good for makers but also for local service based businesses as people might not always know that you exist or even that they need you.
12. Free workshops at events
Get in touch with event managers of events where your ideal client spends time and ask if you can host a free workshop. The idea is that you give people a fun, hands on or educational experience as well as let them know what you do and where they can find you.
When we just started Ink & Spindle, one of my previous businesses, we participated in a craft show where we also hosted screen printing workshops and sessions on how to start a home-based business.
These sessions helped with driving traffic to our stall as well as help people find us later, when they were ready to buy from us or otherwise engage with us.
13. Attend an expo
Expo's are full of like-minded people, so there are always plenty of networking opportunities. Whether you participate by having a stand there or whether you are just visiting, you will most likely get something very valuable out of it.
As with any marketing activity, make sure you have a clear goal in mind so that you can focus on getting results. This could be to build relationships with suppliers, find products for your store, finding a mentor or selling your products. There are many opportunities.
14. Volunteer at an expo or event
If the ticket price is holding you back from attending an expo or event, get in touch with the event organisers and ask if they are recruiting for volunteers. Most expos and events need volunteers to make the event a success. Put your best foot forward and you'll have connections for life, often seeing behind the scenes and meeting people you might otherwise not meet.