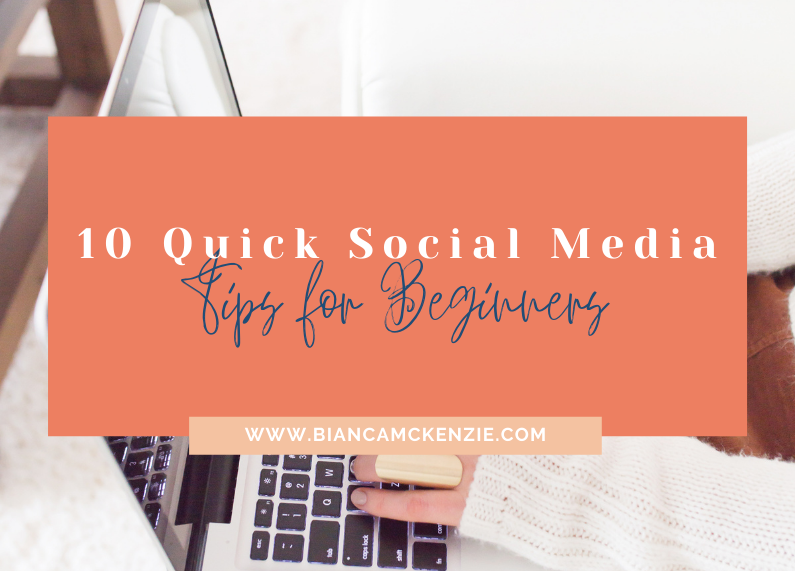 Social media is nothing new, but you might be just dipping your toes in the water with your new business.
Let me tell you this though, with social media you can take your business much further. It helps you spread your wings further and allows you to get in front of more potential customers.
Your ultimate goal with social media should be to drive traffic to your website, increase your visibility, gain more social media followers or find more customers.
The most popular social media networks at the moment are: Facebook, Twitter, Pinterest, YouTube, Instagram and Linkedin.
Why should your business be on social media?
Simple, it's where your customers are.
These days people spend more time on social media than they do reading magazines or looking at billboards, so it makes sense for you to embrace this relatively new medium.
If you're new to social media, let's look at 10 tips that will help you on your way and make the most of this marketing platform.
1: Decide which Social Media platform(s) to use
With so many options available it can be quite a task to figure out which social media platforms to use for your business.
When you're new to social media it is a good idea to choose only one or two social media platforms and concentrate on those rather than trying to work on all platforms at the same time.
Find out where your customers spend the most amount of time and start playing on those platforms.

2: Optimize your profiles
Once you decide which social media platforms you will use, the next step is to optimise your social media profiles on those platforms. By optimizing I mean that you complete the profile by adding an image (ideally one of your face), a description of your business and a link to your website.
On some profiles you have the option to put more information, which I highly recommend that you do. The more complete it looks, the better.
3: Connect your social media to your website
Now that your profiles are setup and ready, let's connect your social pages and your website to each other. There is a certain procedure to follow for each platform and it's important that you do it correctly.
A correct connection between your site and social platforms means that search engines and social media websites know which website corresponds to which social media page, clever right?!
You'll find instructions on how to link your social profiles to your website in the help sections of the social media platform you're trying to link.
4: Add social media buttons to your website
Now it's time to add social media buttons on your website so that visitors can easily share your content.
Depending on the social media platform and your website there are many ways and plugins to allow your readers to share your content. I recommend that you hop on Google to search for "how to add social media buttons to [website platform]".
For example, if you are using WordPress search Google for "how to add social media buttons to WordPress".

5: Follow influencers in your industry
It's time to gradually build your own tribe of followers. The first step is to find and follow the influencers in your niche.
They will most likely not follow you back because you have a new account with no followers but adding them is important because firstly, social media platforms will use this information to make suggestions on who to follow. By following popular people in your niche you are telling them that you are also in that niche.
Also, many people follow the followers of a popular person because they know that some of them will follow them back.
Lastly, influencers in your industry will most probably share important and useful information so you have a chance to learn something new and re-share that with your followers.
6: Balance between following and followers
It can be exciting to start following a lot of people all at once but with most social media platforms it's better to keep an even balance between the number of people you follow and the number of people who follow you back.
There are a few reasons but the most important one would have to be coming across as a trustworthy and reputable brand. If you have only a handful of followers but follow 1000's of others it's pretty clear that you are relatively new. Try to balance the number evenly, liking others when your account is growing.
A strong profile is someone that has more followers than they are following (but the difference can't be too big or you'll be considered impersonal) and someone that is followed by people who are considered influencers in the industry.
7: Share interesting content
The foundation of a successful social media account and campaign is sharing content that is interesting and engaging to your audience.  
Sharing interesting and useful content is more likely to get you post shares, an increased number of visitors to your website and under some conditions more sales as well.
The definition of interesting content depends on what your audience is interested in and finds engaging.
Some content ideas are industry related articles, statistics, images, videos, and sometimes funny content or motivational quotes. It's important to know what your audience likes and responds to in terms of content.
8: Post regularly and consistently
I often get asked "how many times should I post per day?" The answer really depends on the social media platform. There are many studies on the effect of posting frequency and I recommend that you do your own research.
Here's what I've found to be working right now:
Facebook business page – Around 1-2 times per day and no more than 7 times per week.

Twitter – The more you tweet the more exposure you get. Twitter newsfeeds move very fast.

Instagram – Whilst there is no global best practice, most marketers recommend posting no more than once per day.

Pinterest – Posting multiple times per day has seen some big brands grow rapidly.

9: Follow people back
Get into the habit of viewing the people who are already following you and decide who to follow back. Returning the love is hugely rewarding plus it helps you both grow your audience and balance out your followers and following.
Skipping this on a regular basis means that most likely some of your fans will un-follow you and this is why you may sometimes notice a decrease in the number of followers.
10: Know the rules and play the long game
Social media platforms have rules to keep spammers away so there is often a limit on the number of people you can follow per day.
It's important to know the rules and play a long term game. It'll take some time to build thousands of followers so be patient and not try to rush into results by breaking the rules. I also don't recommend trying to speed it up and buy followers because they may not be genuine which means your engagement will drop and you've wasted all this time. You want to build your platform with true, engaged fans who will lift your brand up and eventually become customers.
Focus on creating a great social media profile that will last over time and become an influencer in your industry.
Now you know some of the rules and have some tips under your belt to create your own social media business profile. Remember to follow the rules and take a slow and steady approach.
Disclosure: Some articles on this site may contain affiliate links, meaning, at no additional cost to you, Bianca McKenzie may earn a commission if you click through and make a purchase.