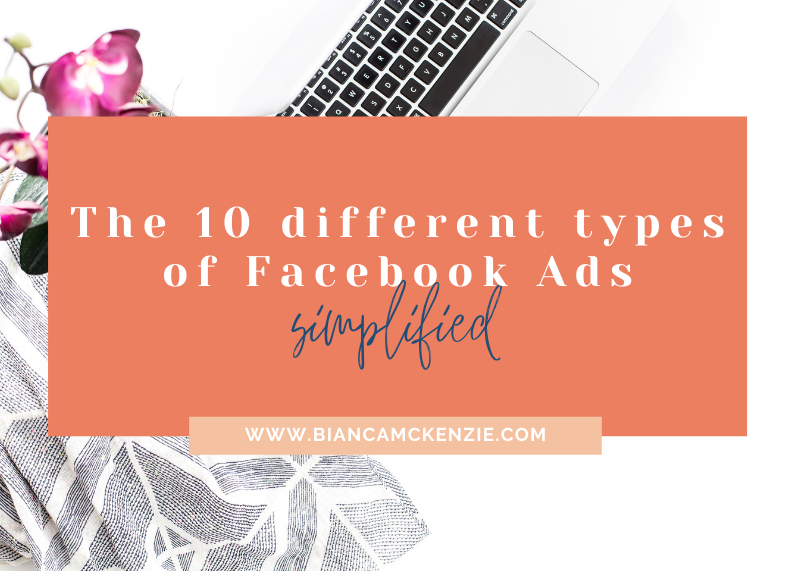 If you've been reading along here you'll know that I'm just a little bit biased about the effectiveness of Facebook ads to grow your business. Facebook ads are what has grown my own and my clients' businesses the quickest, so it's no surprise that I love them so much and recommend them to most business owners.
There are heaps of little tricks and targeting options that ensure that you attract only the best clients for your business and there are ways to optimize your ads for the lowest cost possible. Pretty smart right?
But with all these different options and tricks, how do you know where to start and what objective to choose?
At the time of writing this post there are 10 different objectives to choose from, and each of them dramatically differs in how your ad will be shown and how you'll pay.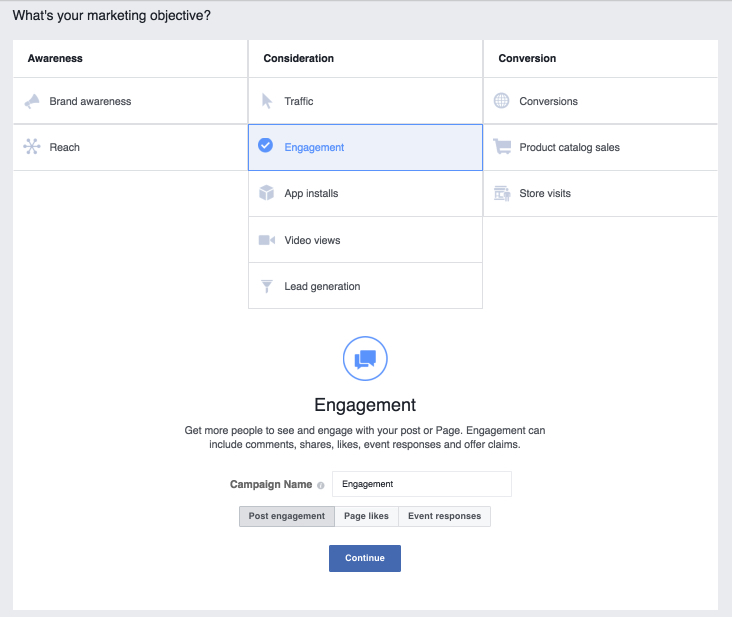 Below I'll be discussing each objective and what to consider in choosing your objective to make sure you get the best return on your investment.
First up you'll see that Facebook has divided the objectives into three categories, namely Awareness, Consideration and Conversion.
Each of these categories has a different purpose and it's important for you to know your advertising goals before you select your objective. Your goal and objective need to be aligned in order for you to see the results you're aiming for.
Let's look at each objective individually:
Brand awareness
You would use this objective when you want to have your ad seen by people who might be interested in your brand. The aim is to increase people's awareness of your brand and hopefully have them remember your brand.
Pros: This objective automatically optimizes to reach people who are likely to pay attention to your ad and remember it. The way Facebook does this is based on a person's past behaviour, including the time spent looking at an ad and whether they made a purchase later.
Cons: It's difficult to measure conversion as it's not designed to measure conversions. It will be harder to know if this ad contributes to sales or list sign ups.You could include a call to action to encourage viewers to convert, but remember this ad isn't designed to measure conversions.
Reach
You would use this ad to reach as many people as possible with the aim of creating awareness.
Pros: You'll only pay to show your ad to the maximum number of people, who may turn into customers or tell someone about your brand.
Cons: This ad is designed to be shown to as many people as possible without being optimized for conversions, which makes it difficult to track whether you are getting a return on your investment, a.k.a you don't know if this is resulting in sales.
Traffic
This objective is used when you want to send traffic to your website. This is a great objective to send people to specific pages such as a blog post or any other page where you want lots of traffic.  
Pros: It allows you to drive highly-targeted traffic to a specific page at a low cost, thus sharing valuable information and, if installed, building up your Facebook pixel data.
Cons: Whilst traffic is extremely valuable, it pays to learn more about how to utilise this type of ad objective. For example, by installing a Facebook pixel you can track who saw your specific page and you can then re-target them with an offer at a later stage. Remember that this objective is not designed for conversions, so be mindful what you are measuring here.
Engagement
This particular objective has been split into three options, whereby you can focus on post engagement, page likes or event responses.
You would use this type of ad to increase the amount of interaction with your page, post or event.
Pros: Since engagement is key on Facebook, it allows you to promote specific posts, your page or an event to your audience. It can be a great tool to increase the number of people who see your post, event or like your page.
Cons: There is no straight forward way to measure whether those who engage with your posts or like your page are actually purchasing from you.
App installs
If your business has an app you can use this objective to capture new app users.
Pros: It assists you in growing your app user base.
Cons: The cost per download have been known to be high when first launching ads to promote an app. It pays to have a clear strategy to optimize and grow your user base.
Video views
Video views is becoming increasingly popular ever since Facebook has put a lot of focus on videos and Facebook Live. You would use this objective when you want lots of people to view a video you have uploaded directly to your Facebook page.
Pros: This objective will assist you in getting a larger amount of viewers as it will prioritize video in your audience's newsfeed. The other added benefit is that you will be building a retargeting audience through video views that you can later use to promote your offers to.
Cons: Video views aren't necessarily tied to conversions, since they are not created to convert. However, by including a strong call to action they have been known to be effective at converting to sign ups or buyers.
Lead generation
This objective is used when you want to build your email list of targeted leads via Facebook's own platform.
Pros: It is possible to reach highly-targeted leads and immediately follow up with an email nurture sequence to introduce them to your brand and entice them to purchase from you.
Cons: The cost per lead can be somewhat expensive when you first launch your ads. It is important to understand this type of ad and how to best utilise it to get a return on your investment.
To learn more about what goes into successful Facebook ads, check out my free video training.
Conversions
This objective is used when you want your audience to take a specific action, like purchasing a product or signing up for your mailing list. This is the objective I use the most for my own and my clients' ads.
Pros: There are ways to optimize this type of ad by focusing on the number of conversions, which means that the ad will be shown to people who are most likely to do what you're wanting them to do. The conversion objective allows you to measure important data such as sign ups to your mailing list or purchases, as such it's a fabulous objective that allows you to collect important data. It also has the added benefit of building your Facebook pixel data for later re-targeting options, if you have a pixel installed.
Cons: In order for these ads to be most effective, you'll want to target people who are already familiar with your brand or who perfectly match your ideal audience. To do this, you need to be very familiar with your ideal client avatar and the type of offer they would join your list for or purchase.
Product catalog sales
You would use this objective when you have more than one product you would like to showcase to your target audience.
Pros: It's possible to show your audience many products they might like in a single ad. These ads typically see great engagement.
Cons: To be able to advertise this way you will need to set up a catalog on Facebook or integrate your page with your existing e-commerce cart, which may take a little bit of work upfront.
Store visits
If you have a brick-and-mortar store you could use this objective to bring people offline and into your store.
Pros: The ad will show viewers the closet store and can offer directions.
Cons: In order to track the effectiveness of these ads, it's important to set up offline conversion tracking.
As you can see, there are many options to choose from and each one is designed for a specific result. Depending on what your goal is for your ads, you may need to carefully consider some of the objectives above.
My favourite is conversions and I use it almost exclusively for my own and my clients' ads because it allows me to track the return on investment. As a marketer I want to know if spending money is actually making me, or my clients, money.
If you want to learn more about Facebook advertising for your business, join one of my free trainings here.