Do I need a website or is having a Facebook page for business ok?
You most definitely need a website in addition to your Facebook page, and I'll tell you why you need a website instead of a Facebook page:
1. You don't own your Facebook page or your fans
If Facebook decides to close up shop you will lose everything you've worked so hard for. Facebook also has the right to shut down business pages and it continuously does so. It's in their terms and conditions that they have the right to shut down business pages and this is pretty much the same with any other social media platform. Unfortunately, Facebook and other social media platforms offer very poor customer service, which means that if your page is suspended it is virtually impossible to get your page and its likers back.
2. It's not designed for your business
Facebook is the one that has chosen the colours, the branding, the fonts. Although you can add a logo and an image, you have very little control over how you present your brand and every other business gets the same options.
3. It limits your SEO & measuring capabilities
The more places your business and its products and services are represented on the web the better. With a website you have the opportunity to maximise your content by including relevant keywords in your website content and blog. Working on your website content by focusing on keyword relevance and density allows you a better chance of being listed in Google's search rankings and thus found by your customers. We call this 'search engine optimisation' or SEO. With a website you also have the option of incorporating Google Analytics so that you can keep an eye of how well you're performing with the number of people visiting your site, where people click on your website and how long they spend on it. Limiting yourself to just being found through Facebook weakens your potential to tap into a broader audience as well as gaining knowledge of your potential clients' online behaviour.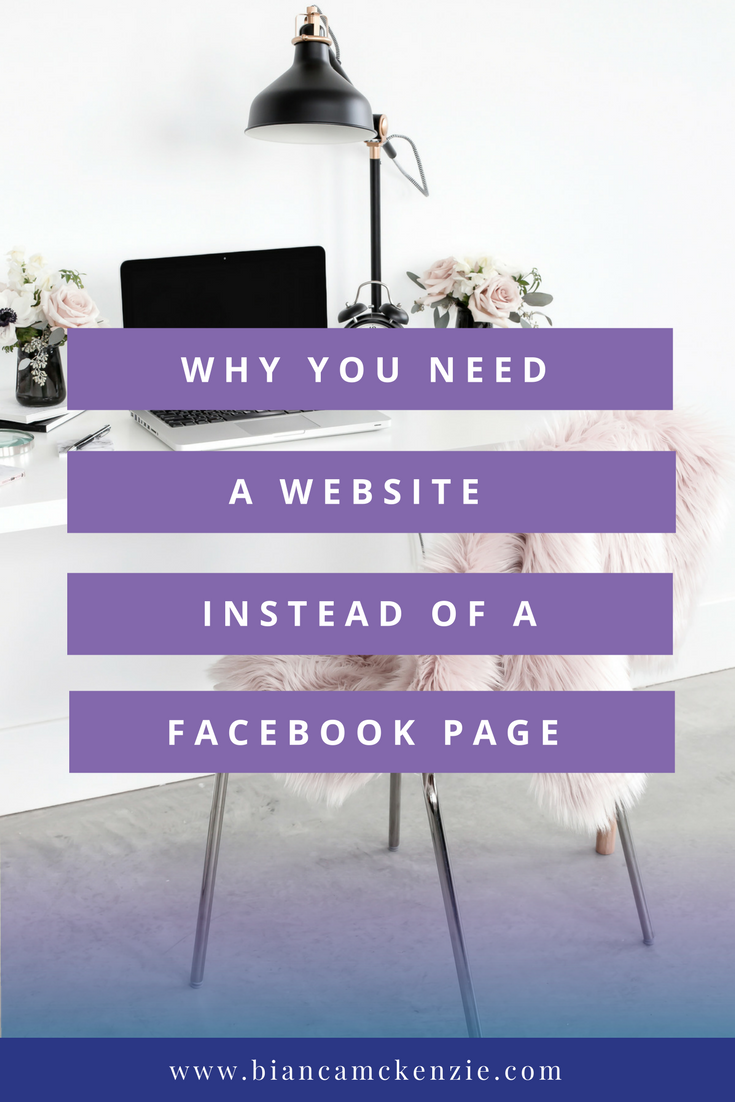 4. Not everyone is on Facebook
While 9 million Australians use Facebook daily (at the time of writing this article), not all your potential and current customers will be on Facebook. With Facebook constantly changing the game, many might not even see your posts. Having a website means that you will have a captive audience, plus you can track their behaviour and use the knowledge to service them better.
5. It's not the only tool
Facebook can be seed as part of your kit but it's not the tool. Facebook offers many benefits to businesses and your customers, and it should definitely be part of your strategy but it should never be used on it's own. You can potentially use it to test the waters, but be sure to capture customer data so that you won't lose it if Facebook shuts you down. An email newsletter is a great way to start.
LIGHT BULB MOMENT: Even if you don't proceed with a website now and decide to test the waters with a Facebook page, at least secure your business web address. To get the best out of your provider, make sure they have a local number you can call for service and support.
<script src="//static.leadpages.net/leadboxes/current/embed.js" async defer></script> <img style="cursor:pointer;" data-leadbox-popup="pS69p67HiSRtjX4Fb4srEb" data-leadbox-domain="biancavanmeeuwen.lpages.co" src="https://lh3.googleusercontent.com/fYtk6T5R7ddFgGQBXGbWztAWdaM4rJBDOiK3Mmc7IWtpypzo5dI-2zKmzEZJhfIHAtAQE10oJbq_Ze6n7aLMYQ=s0" alt="Click here to subscribe"/> <!-- [et_pb_line_break_holder] -->
<script src="//static.leadpages.net/leadboxes/current/embed.js" async defer></script> <img style="cursor:pointer;" data-leadbox-popup="CwYdFS7XwmQEx9ZwHfZ7HJ" data-leadbox-domain="biancavanmeeuwen.lpages.co" src="https://lh3.googleusercontent.com/R7MOB2iVHBxdH_zcrdQPdwLelG4g4T6SW35UfyYIMVwPNR9OHytOCmM-k7RTn_69YGWYvLTThU4L-SM2sPcj=s0" alt="Click here to subscribe"/> <!-- [et_pb_line_break_holder] -->
<script src="//static.leadpages.net/leadboxes/current/embed.js" async defer></script> <img style="cursor:pointer;" data-leadbox-popup="1428b8173f72a2:14a6c65eab46dc" data-leadbox-domain="biancavanmeeuwen.lpages.co" src="https://lh3.googleusercontent.com/WJJbUF9lwLDP4hXniI2Svas4hhkGwV50xGY3pXjrUBZXqdL7lecGhOP_43mgi1mm-oRb91jCDNgToDA-8QO88g=s0" alt="Click here to subscribe"/> <!-- [et_pb_line_break_holder] -->