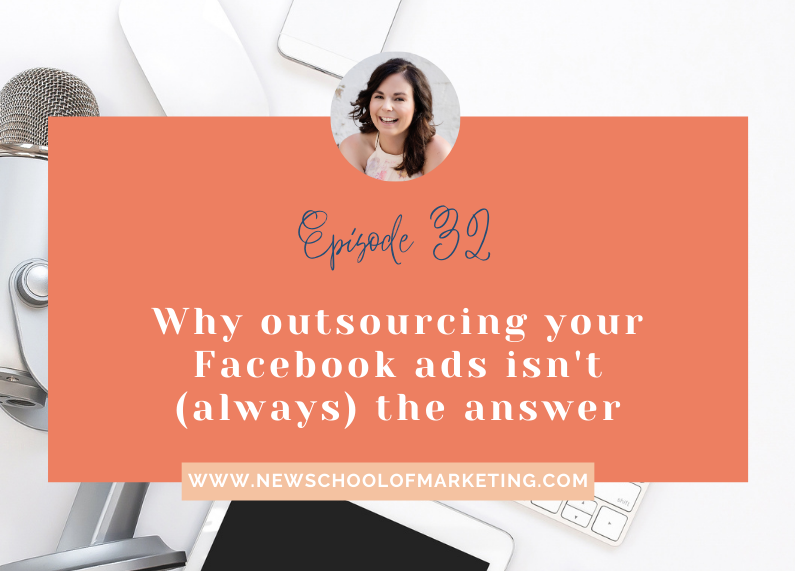 You might have been thinking about running Facebook & Instagram ads but you're unsure if you should learn to do it yourself or if you should outsource them.
I understand that maybe you think running Facebook ads is hard, or maybe you just don't want to do them. That's totally ok.
Tune into this episode, because I'm going to give you some insights that might change your mind or at the very least you'll be better prepared when you do outsource your ads.
I'll talk about why I think you should manage your own ads (at least for a little while), what you need to have ready before outsourcing, which questions to ask an ads manager and what we actually do as ads managers.
If you have any questions or want to DM me, find me here on Instagram.
Tune in ?
Connect with me
Website: www.newschoolofmarketing.com
Facebook: @newschoolofmarketing
Facebook group: @newschoolofmarketing
Instagram: @bianca_mckenzie
Love the New School of Marketing Podcast?
Let's be honest and upfront, because you know that's what I'm all about. Podcast reviews are super important to iTunes and the more reviews we receive the more likely iTunes will reward us with better reach.
I want to reach more course creators, store owners and awesome business builders that can add extreme value to our awesome insiders. I already love that you're here and ready to rock your business, but I'd be extremely grateful if you would review me on iTunes and SUBSCRIBE!
Can't wait to teach you everything I know about online marketing!
Facebook Ads Checklist
Inside this FREE master template I'll show you exactly what you need to create and setup before you can start your ads.
Transcript
Hey, thanks so much for listening to the New School of Marketing Podcast. I'm here to guide you through the sometimes daunting world of online marketing.
So much has happened since we last spoke – well, since I recorded a podcast.
Summer has ended, but thankfully we're still experiencing some warm days. It has been such a mild summer and my Dutch self is very grateful for that. I don't do well in super hot weather and if you're from somewhere north in Australia you're probably laughing at me because Melbourne doesn't really get that hot. At least not for long.
Anyway, summer is over and I'm actually looking forward to winter. Hopefully, we'll be able to go on some snow trips this year.
Another thing that happened is that we're leasing a little shetland pony for my daughter. She's about to turn 3 and still quite young but as someone who grew up with spending weekends on the farm and being around horses, I thought it would be a nice thing for us two to do.
Her little lease pony is called Ollie and he's cute as a button, super calm and his only care in the world is the green grass near the barn. We've been having fun together brushing him and walking around the farm.
I could talk about him forever but let's get onto today's topic.
Outsourcing your Facebook ads – or why it's not always the answer.
I understand that maybe you think running Facebook ads is hard, or maybe you just don't want to do them. That's totally ok.
But listen up, because I'm going to give you some insights that might change your mind or at the very least you'll be better prepared when you do outsource your ads.
First, let's talk about why I think you should manage your own ads (at least for a little while).
One of the reasons I believe you should run your own ads first is because it'll make you better understand what goes into running ads, plus you'll be able to ask better questions when you hire an ads manager.
You know your clients best, and an ads manager can learn this over time but it may take a few weeks or even months before they fully understand your business, your offers and your ideal clients.
Also, Facebook ads take time.
It's no secret that it takes time to find the sweet spot with Facebook ads and a lot of the time is usually spent on testing a big number of variables.
You'll need to test your images, your copy, your audiences, your landing pages, your objectives etc etc. Everything needs to be tested and once that's done, you need to track your conversion. Is your ad actually doing what it's supposed to do? Is it converting at a good rate (for this you'll need to do more testing and know your industry benchmarks)?
If it's not converting you might need to tweak your ads, or your landing page, or some other element that indicates a 'flaw'.
All your Facebook ads elements and your offer conversions need to be right or no ads expert is going to be able to get cheaper leads or make it convert better.
Another thing to consider is your budget.
Outsourcing your ads comes at a cost, and rightly so. Prices for experienced advertising strategists are generally between $1,000 and $5,000. And most agencies or ads managers have a minimum commitment term because it often takes a few months of testing to figure out what works best for your industry, your targets and your business.
So on top of your ads budget, you need to factor in the cost of an ads manager. They can totally be worth the investment but it also depends on a lot of factors, so you need to make sure that you're ready.
If you really don't want to run your own ads, I have some tips for you to make sure that you're prepared for working with an agency or ads manager.
Some ads managers have criteria that they want their clients to meet, so they might seem a little picky on which clients they take on.
This is for good reason, because they want to get results for those clients and if certain things are not in place the client's launch or campaign will flop. I'm one of those ads managers.
There are times I turn potential clients away because they might not be ready for ads (yet). I'll always tell the client why they're not ready yet so that they can work on getting their business ready for ads, rather than waste their money with another ads manager who might happily take their money but then struggles to get results because the business wasn't quite ready.
Let's look at a few criteria that a good ads manager will cover to make sure that you're ready:
1) A converting offer
Depending on what you sell, your offer needs to convert. So if you have an e-commerce store, you'll need to be getting consistent sales and know your average conversion rate and average order value.
If you sell digital products, courses or coaching, you'll need to have a funnel that converts.
Facebook Ads are a great tool to get potential clients attracted to your business, that's why I am an advocate for list building.
Your FUNNEL is what sells you offer (<<< not your ads unless you use retargeting!).
If you're hiring an ads manager to get conversions with the goal of making sales you have to have a sales funnel in place that already converts subscribers to buyers.
I say this in pretty much every episode. Facebook ads can amplify your results, not fix a broken funnel. It's reasonably easy to grow your list with ads but the funnel needs to sell your offer.
2) A healthy budget
Most experienced ads managers often require a minimum ad spend. Everyone has a different number but I like my clients to have at least $2000/month or more.
This allows us to do testing which is important to get you results with Facebook ads.
We're passionate about managing your ads and want them to be successful so it's important that we are given the resources to get you the best results, which includes a reasonable budget to get your ads started and optimised.
3) Some history with ads or an established business
Some ads managers won't take on businesses that are brand new.
This is because your infrastructure might not be set up yet. You might not have your pixel installed or you might lack an email list or website traffic so the ads manager is starting from scratch.
Ads managers tend to get the best results with businesses that have some history, especially a converting product and an ads account with some data.
If you are brand new, that's totally ok but your first few months of advertising will most likely be a marketing research campaign where you get lots of data that will help you improve your funnels.
If it's in your budget I'm all for hiring an ads manager, but I do always suggest people learn the basics of Facebook ads first so you know what to look for when hiring someone and/or reviewing your stats.
You CAN totally run your own Facebook ads. You just need a great teacher and a support group for when you have questions. If you're curious to learn more about running your own Facebook ads, send me a DM on Instagram and I'll point you in the right direction.
If you're ready to hire an ads manager, here are some questions you should ask them.
Grab a pen and some paper so you can write them down:
How much experience do they have with running ads for your niche or business?
Do they have testimonials from past clients?
Do they have case studies to show results?
How have they been taught and where do they go for support?
How do they charge? And what does that include?
Do they have any minimum ad spend requirements?
Also, be mindful of the amount of work that's involved in ads management. You might not really know what we do on a daily basis so ask your ads manager questions.
Here's what I do on a daily basis:
Researching audiences (this involves hours of finding your perfect clients inside of Facebook)
Building your audiences
Uploading email lists, FB fans and building warm audiences, engaged audiences, look-a-like audiences, video watchers, etc.
Creating ad creative
Creating ad copy and headlines
Putting a strategy together (including dates ads go live, who to target, when to retarget etc)
Installing pixels plus confirming they're working
Testing all landing pages/opt-ins to ensure everything is working
Reviewing landing pages (and sometimes re-creating landing pages)
Setting the ads up in ads manager (power editor is obsolete, in case you didn't know)
Running the ads
Monitoring them daily and optimizing/scaling/reviewing stats
Determining what ads are performing and which ones to turn off
Creating weekly and monthly reports
Communicating with you weekly (if not daily) on the status of your ads
Troubleshooting when ads are tanking
Making sure you are getting a return on investment (and are not spending more than you're making!)
There are definitely a lot of things happening behind the scenes, which is exactly why some people prefer to outsource their ads.
I hope this episode has given you some insights into whether or not you should or even want to outsource your Facebook ads or if you might give it a try yourself first.
It's not rocket science but it does require some thought and skill. Something you can learn, or if you're comfortable with outsourcing you can get in touch with a few ads managers and ask them questions.
I'm both an ads manager and a teacher, so feel free to send me a DM and I'll always be honest with you in regards to whether you should learn or outsource.
That's the end of another episode.