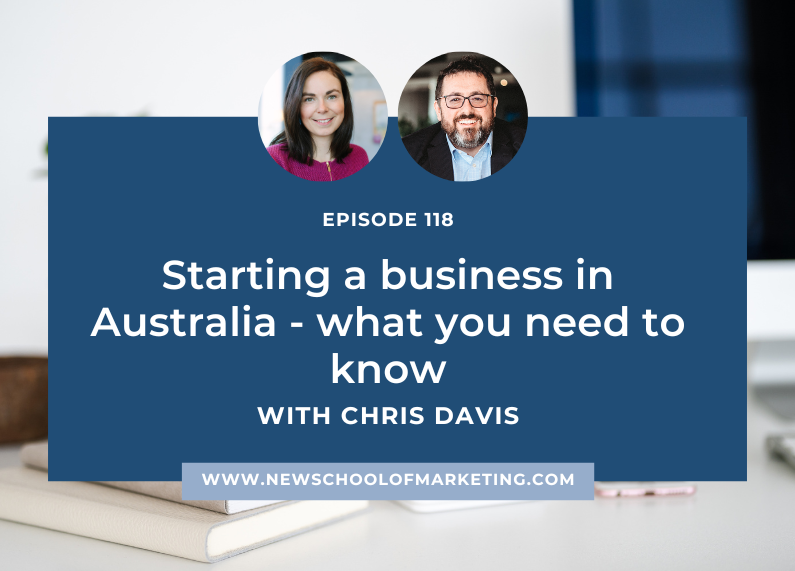 This whopper episode covers just about everything you need to know about starting and building a business in Australia.
I talk to Chris Davis about what someone needs to know and do when they're starting a business in Australia. This is the longest episode I've ever recorded and it's so full of tips and advice for anyone who has a business so tune in today.
Chris has had over thirty years' of experience building new businesses and initiatives, as well as refining existing approaches for impact and growth. He has a breadth of knowledge in the areas of governance, commercial solutions, and entrepreneurial advice, which he openly shares so he can help businesses and individuals make the most of their opportunities.
Tune in to hear all about starting a business ?
Links mentioned:
vdp.com.au
moneysmart
ABN lookup
ASIC
Rhuby Delights
Connect with me
Website: www.newschoolofmarketing.com
Facebook: @newschoolofmarketing
Facebook group: @newschoolofmarketing
Instagram: @bianca_mckenzie
Love the New School of Marketing Podcast?
Let's be honest and upfront, because you know that's what I'm all about. Podcast reviews are super important to iTunes and the more reviews we receive the more likely iTunes will reward us with better reach.
I want to reach more course creators, store owners and awesome business builders that can add extreme value to our awesome insiders. I already love that you're here and ready to rock your business, but I'd be extremely grateful if you would review me on iTunes and SUBSCRIBE!
Can't wait to teach you everything I know about online marketing!
Facebook Ads Success Bundle
Inside this FREE bundle I'll show you exactly what you need to create and setup before you can start your ads.