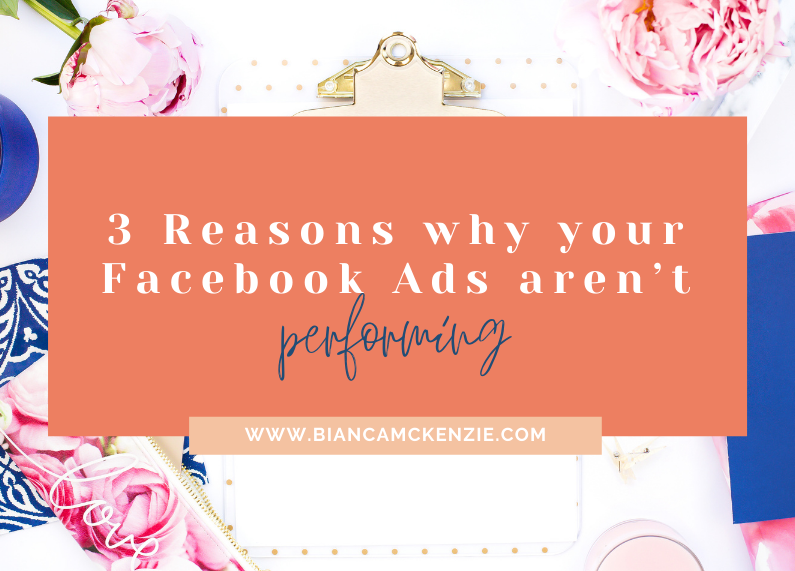 Today, I want to look at some of the reasons why your ads aren't working and how to fix the common mistakes you might be making. One of the biggest challenges with Facebook ads that aren't performing like you'd like them to is usually related to your targeting.
Are you crystal clear on who you're targeting with your ads and do you know exactly how to set up the targeting inside the ad set?
There are options to target your audience by geographics, demographics, pages they might follow, special interests, or whether they are connected to your page. It's important to be very clear on who your ideal audience is and translate this knowledge of your ideal client by being specific in your targeting.
It's also important to test different variables in different ad sets rather than relying on what you think will work. Facebook ads is mostly about testing what works rather than guessing or 'thinking you know'. Facebook will focus on optimising the ads and finding the 'best possible' audiences based on your targeting setup.
The next reason your ads may not be performing is when you're new to ads and are not spending enough money. You can start running ads from as little as $5 a day, but it may not get you the results you want. If your budget is $5 a day, I recommend you spend this budget on promoting videos or Facebook lives.
This way, you are building up a retargeting audience of which you can create a custom audience of people who viewed the video. You can use this audience later re-target with your offer. This audience has had a 'preview' of your work and is not classified as 'cold' anymore, most of the time they're far more likely to convert to a sale than they would have been if you'd promoted to a cold audience.
Another reason I see for ads not performing is the lack of a beautiful, professional landing page. This may seem irrelevant because it falls outside of Facebook ads but investing in proven landing page software is well worth it if you're serious about using Facebook ads to grow your business. I personally use and recommend Leadpages because all of their templates are tested for performance, the drag and drop feature makes creating landing pages easy and you can install the Facebook pixel to help you track your conversions.
As you can see, there's a lot more to Facebook ads than simply putting up an ad. The reasons above are some of the challenges I see people struggle with but Facebook ads, but there's always more to Facebook ads.
If you're new to ads and are not sure where to start, you might like to watch my free video training 5 Steps to Creating Strategic & Profitable Facebook Ads that Build Your Email List… without overwhelm or wasting money.