With 2017 well underway and many of us in planning mode, I wanted to go deeper into your planning.
You might have planned out your year, your launches, your content calendar, but what about your Facebook ads?
Like with many other marketing activities it's important to plan ahead and have a strategy in place that will enable you to grow your business. Facebook ads are an excellent tool to support your launches and business growth so it makes sense to create a plan for this too.
We all know that there are many ways to plan and everyone has their own prefered method, so what I'm going to share with you might work for you or only parts of it may work for you. Take what you need from this post and make it your own to suit your business.
I'll be sharing my thoughts and process of how I use and plan Facebook ads into my business.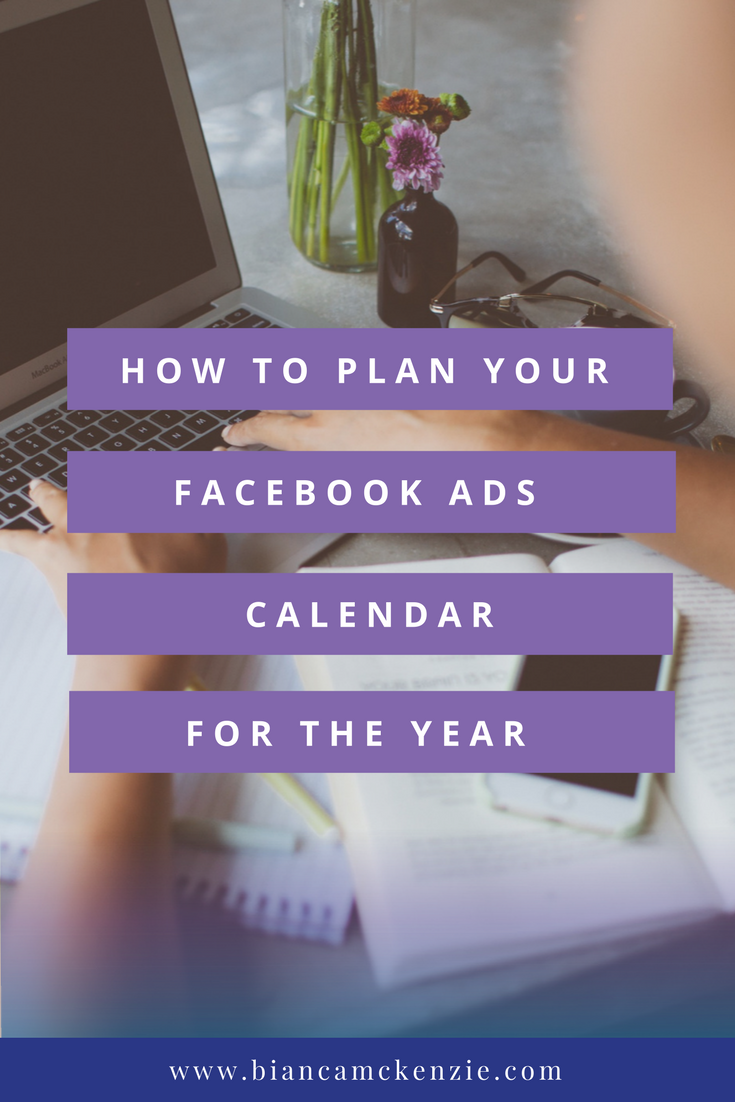 First up, I do my overall plan for the year which highlights what particular activity I'll be doing in a particular month of the year. It's important to have some plan in place for your year and use Facebook ads to support this plan.
For example, I'm planning to launch my flagship program Soulfully Social twice this year and will be using Facebook ads to support my list growth for my launch. My first launch will be in May, which means that I have planned my pre-launch for March and April.
Pre-launching to me means all the activities I need to do before opening the cart. In this case list building is one of them so I plan my Facebook ads for March/April.
I break down my ads into categories:
Pre-launch list building
Open cart re-targeting
Cart closing re-targeting
Using these categories, I carefully plan which dates I will be advertising a free opt-in and/or webinar to build my list and then use this data to re-target once my cart is open.
Re-targeting is a method of showing your ads to those who are already familiar with you because they've clicked on your site where they may or may not have signed up, they might be on your list or have visited one of your pages in the past.
So I sit down with my calendar on which I've planned all my launches out and determine how I'm going to support my launches with Facebook ads. I then look at my pre-launch period and set dates for running Facebook ads to grow my list. Most of the time this is a 4-6 week period in which I run ads to a download or video series for 4-5 weeks and ads to a live webinar for approximately 10 days. Both methods are geared towards list building.
As I mentioned earlier, I'm planning two launches for Soulfully Social so I'll be duplicating what I have done for my first launch to the second launch. If there are any major lessons from the ad campaign from the first launch I will review my strategy for the second launch.
But what do you do when you run evergreen courses or products?
My FB Ads for List Building course is an evergreen course which means that people don't need to wait for a cart to open during launches. They can buy it anytime, any day.
To grow my list for FB Ads for List Building I simply look at the months where I'm not launching my other course or promoting affiliate courses and plan my ads for those months. Sales for this course are driven by the number of people who sign up to my list so it's important to focus on growing my list and the fastest way to do this is to run Facebook ads.
I also pay attention to what other advertisers are doing during the year so that I'm not spending more than I have to because I don't want to 'compete' against businesses with large advertising budgets. For example, Marie Forleo promotes her B-school program in February/March so I try to avoid running Facebook ads around this time.
This method works for me but it might not work for you and that's ok. Take what you need from my methods and focus on your own. I simply wanted to share my method with you and highlight some of the things to look out for (such as peak advertising times for your industry).