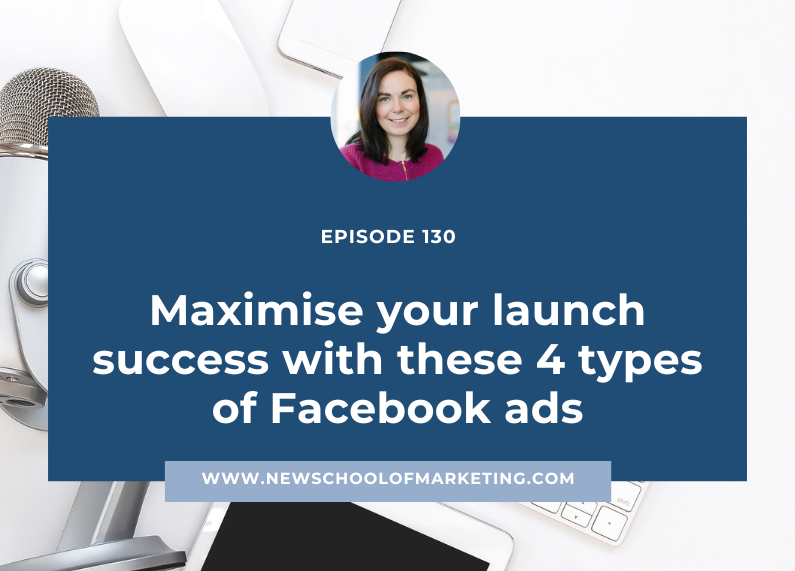 I just wrapped up another launch with a long term client and I'd like to share what worked for this particular launch and what I see working for launches in general. 
Inside this episode we'll look at the 4 types of Facebook ads that will maximise your launch success.
Tune in 
Links mentioned:
Client Attraction Code
ADvisory
Connect with me
Website: www.newschoolofmarketing.com
Facebook: @newschoolofmarketing
Facebook group: @newschoolofmarketing
Instagram: @bianca_mckenzie
Love the New School of Marketing Podcast?
Let's be honest and upfront, because you know that's what I'm all about. Podcast reviews are super important to iTunes and the more reviews we receive the more likely iTunes will reward us with better reach.
I want to reach more course creators, store owners and awesome business builders that can add extreme value to our awesome insiders. I already love that you're here and ready to rock your business, but I'd be extremely grateful if you would review me on iTunes and SUBSCRIBE!
Can't wait to teach you everything I know about online marketing!
Facebook Ads Success Bundle
Inside this FREE bundle I'll show you exactly what you need to create and setup before you can start your ads.
Transcript
Episode 130 – Maximise your launch success with these 4 types of Facebook ads 
Welcome back to the new school of marketing podcast. I'm so grateful to you for tuning in. Before we dive in I would love to pay respect and acknowledgement to the palawa people of lutruwita who are the traditional owners of the land on which my business operates and pay my respect to their elders, past, present and emerging.
I hope you're well and are enjoying winter, or summer if you're in the northern hemisphere. We've had so much rain over the past few weeks it's getting a bit out of hand. Our water tanks are overflowing, which isn't necessarily a bad thing, but being cooped up with a 5 year old and very active 16 month old gets old pretty quickly. He's basically climbing the furniture on a daily basis and it's driving me a bit nuts. We have all of the climbing toys you can imagine, yet he still prefers dining chairs and kitchen drawers. 
Anyway, I'm sure it'll end at some point. We'll have to get outdoor climbing options as well as a swing and a slide. 
Let's dive into today's episode. 
I just wrapped up another launch with a long term client and I'd like to share what worked for this particular launch and what I see working for launches in general. 
When I talk of launches, I'm speaking about businesses with online courses or memberships that open doors for a period of time before closing them so they can focus on taking their new student cohort through the program. 
Evergreen attraction/nurture ads
One strategy we use constantly is an evergreen attraction and nurture strategy. These ads are created strategically and generally posted as organic content first and then amplified with Facebook ads. The strategy behind it is quite intricate and has layers built upon layers. The aim with this strategy is to get in front of new audiences and position yourself as the expert in your niche. By running these types of ads you're growing your audience, which often helps when you're ready to launch as retargeting ads often result in lower costs per lead. 
It's a strategy that you too can easily implement, as you don't need a large budget for it. You can run these ads for as little as $2 a day and leave them on for quite some time. Inside my online shop you'll find a course that teaches you how to set this up for yourself, it's called the Client Attraction Code and is available for $37. 
I'll add a link to the show notes. 
The next ad we run is an:
Evergreen lead gen ads
Because marketing is often a numbers game I encourage you to have a lead magnet for your audience that they can sign up for at any time, and to get more people on your list I recommend that you run ads throughout the year, outside of launch periods, to grow your list. 
Not only does this strategy help you attract new leads throughout the year, but you're also giving your new subscribers time to get to know you and your business. You have more time to nurture them before your next launch, which some people need as they don't purchase within days or weeks of getting to know you. 
I also find that this strategy allows you to keep an eye on how your ad account performs at certain times of the year. If you only run ads for launches it can become quite unpredictable, but running ads with an evergreen lead magnet allows you to monitor when you're getting more conversions as well as what your lead cost does. Of course there's always variation and it's going to change every single time, but I do find that this strategy helps you learn more about your audience and ad account. 
Then the next ad we run is a: 
Launch event lead gen ads
This ad is specifically for your upcoming launch. So it could be a webinar, challenge or quiz that leads into your promotion period. So as I mentioned, I recently ran a launch campaign for a client and their launch event was a series of live webinars. This type of lead magnet works really well for this client as it helps them connect with their audience while they teach something, which establishes their authority and because this client has a very high level of energy and enthusiasm the audience converts at a really high rate. 
They've worked on this for years, so if you're just starting out don't feel discouraged if it takes you a few goes to get it right. 
Retargeting/Open cart ads
Your final ad is the one that should get people in the door. It's the one where you tell them about your offer and encourage them to purchase it. It's your 'open cart' ad that you'll want to get in front of people who have engaged with your brand and especially those who are on your list and have participated in the launch event. 
Research shows that people need multiple touch points with your brand before they buy so these last types of ads are a great way to keep getting in front of your audience and remind them of what you're currently offering. 
We all know that life gets in the way sometimes and we forget to take action on that email we opened, so keep nudging people and reminding them that your cart is open. 
Using this layered structure of ads means that you're taking your audience on a journey. Each layer will allow them to go deeper with you and gives you the opportunity to really nurture that connection. 
People buy from brands they know, like and trust and this is your opportunity to direct that in some way, rather than crossing your fingers for the algorithm to deliver your organic posts. 
If you're keen and ready to embrace this layer cake of Facebook ads, I have just the thing for you. In my high level, high touch Facebook advertising program you'll learn each of these strategies so that you can set up your ads for your next launch. If you want to know more about this program, head to my website www.biancamkenzie.com/advisory and I'll also put the link in the show notes. 
All right, let's wrap up. We just tackled the 4 types of Facebook ads to maximize your launch success.
If you set this up your layer cake will have:
Evergreen attraction/nurture ads

Evergreen lead gen ads

Launch event lead gen ads

Retargeting/open cart ads
Having this in place to drive traffic to your brand and offers will help you scale your marketing efforts and maximize your launch success. 
Thanks for joining me on this episode of the New School of Marketing podcast, I hope this episode was helpful and I can't wait to share more marketing tips with you next week. 
If you're ready to take your business to the next level with Facebook and Instagram advertising, make sure you visit www.newschoolofmarketing.com to download practical free resources, plus subscribe to the podcast and never miss an episode. I can't wait to go on this journey with you. Until next time, take care and market your business every day.