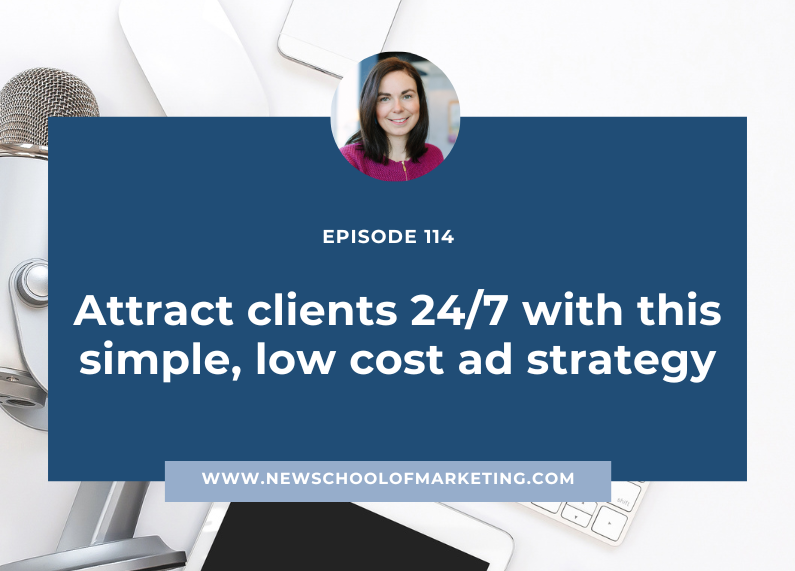 In today's episode I want to talk about a Facebook ad strategy that has been overlooked for years but I see more and more people use it, and for good reason. 
If you've been advertising on Facebook for years you'll have noticed that quite a lot has changed. It's getting busier, harder to stand out and the cost keeps increasing. 
So rather than using the same old strategies, advertisers have had to come up with new ways to run ads that convert or they'll simply waste their ads budget. 
Five, six, seven years ago it was reasonably easy to run ads to a freebie, like a webinar, free download or challenge and get lots of people to sign up at a low cost per sign up. Nowadays it's costing a lot more and converting them into clients isn't as easy as it once was either. 
Online marketing keeps changing and moving in different directions, which is both frustrating and exciting. 
Today I want to talk about a simple, low cost ad strategy that will help you attract clients 24/7. 
———-
Learn more about the Client Attraction Code (it's just $37!)
Connect with me
Website: www.newschoolofmarketing.com
Facebook: @newschoolofmarketing
Facebook group: @newschoolofmarketing
Instagram: @bianca_mckenzie
Love the New School of Marketing Podcast?
Let's be honest and upfront, because you know that's what I'm all about. Podcast reviews are super important to iTunes and the more reviews we receive the more likely iTunes will reward us with better reach.
I want to reach more course creators, store owners and awesome business builders that can add extreme value to our awesome insiders. I already love that you're here and ready to rock your business, but I'd be extremely grateful if you would review me on iTunes and SUBSCRIBE!
Can't wait to teach you everything I know about online marketing!
Facebook Ads Success Bundle
Inside this FREE bundle I'll show you exactly what you need to create and setup before you can start your ads.